S55: Patoka farmer takes out East Coast FMG Young Farmer of the Year
A Hawke's Bay farmer whose farm was devastated by Cyclone Gabrielle has just been announced the winner of the East Coast FMG Young Farmer of the Year.

Patrick Crawshaw, 29, a Patoka beef and lamb farmer, was crowned the victor on Saturday evening, following a day of challenges at Dannevirke A&P Showgrounds. His win gives him entry to the Grand Final in Timaru in July – held up as one of the most prestigious farming awards in the country.

Arriving at the event was a "surreal feeling" for Crawshaw, who hadn't been into town since the cyclone cut off his only access route late last month. Crawshaw had multiple backup plans to get to the event safely, as road access to his property has only been restored for four-wheel drives and light vehicles, and only in fine weather.

"Driving into town and seeing the damage made it tough to get into the right headspace, but I knew I needed to focus on the competition and set myself up as well as I could for the day ahead."

The competition was a close match, with Crawshaw scoring just a quarter of a point ahead of last year's winner, 31-year-old Mark Wallace. Jack Scahill, 27, from Dannevirke Young Farmers secured the final spot on the podium.
Patrick spoke to Seven Sharp about his win and his challenging lead-up
July's Grand Final will be Crawshaw's second attempt at the title of FMG Young Farmer of the Year. He competed back in 2018, and always knew he wanted to give it another shot.

"With everything that's happened back home, it's all a bit hard to comprehend. We know it's going to take years to repair the damage that the farm sustained in the cyclone, so I'm just enjoying the win for now."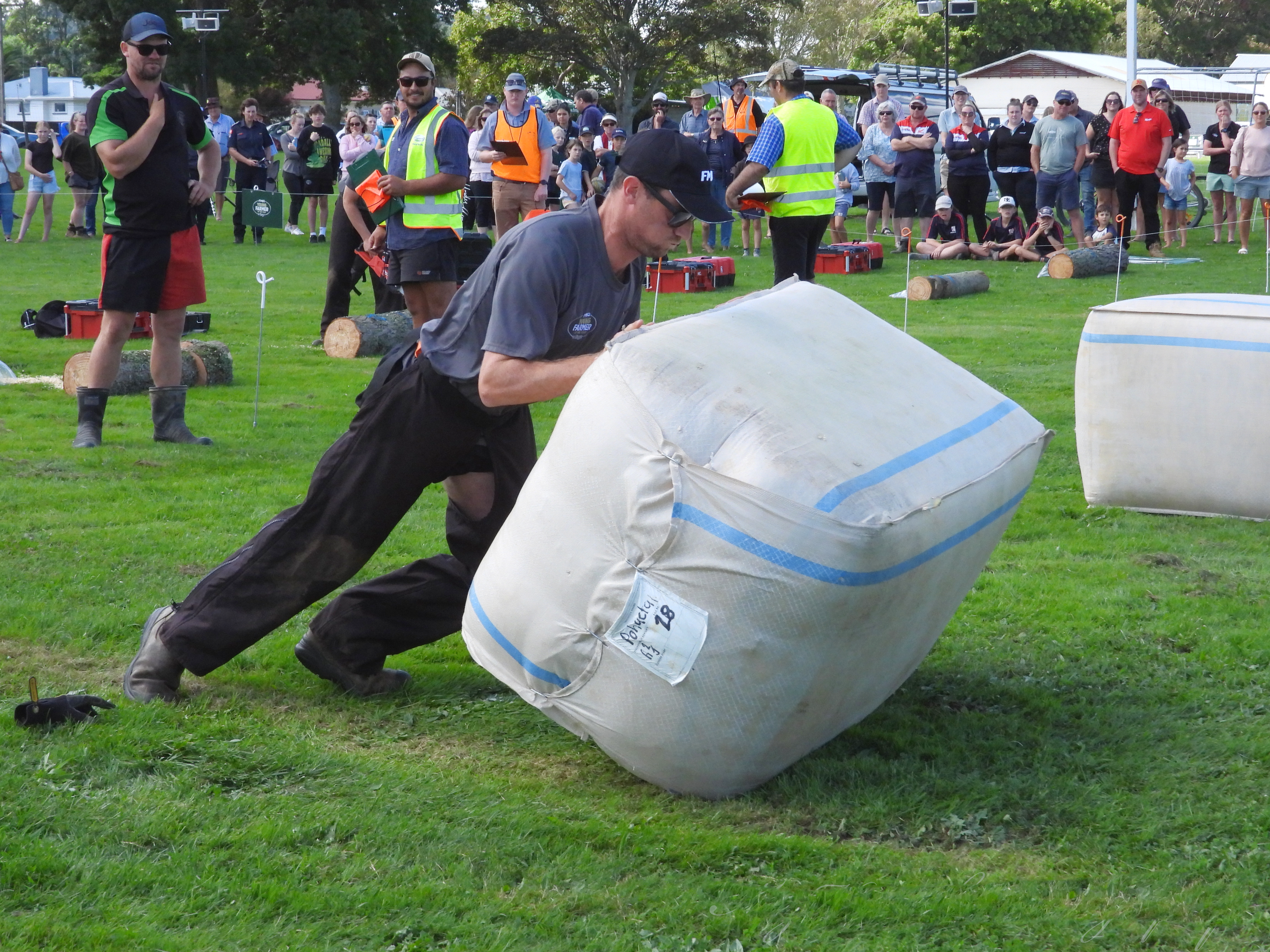 Patrick Crawshaw competing in the head-to-head challenge (photo credit Meg Horrocks Photography)
He'll be competing against Taranaki Manawatu representative Mac Williams, Waikato Bay of Plenty representative Emma Poole, and four other regional winners from throughout New Zealand who are yet to be decided.

The next generation of young farmers also took part in Saturday's competition, with Napier Boys' High School having a clean sweep in the FMG Junior Young Farmer of the Year Competition. Cameron Brans and Quinn Redpath took out the title for a second year in a row, and classmates George Giblin and Baxter Twist were close behind.

In the AgriKidsNZ Competition, it was Team Agri-Tools made up of Ollie Mitchell, Payton Thomsen and Sam Beetham from Puketapu and Hereworth Schools who were the 2023 East Coast AgriKidsNZ champions.

Runner-up and third in the AgriKidsNZ contest were Katie Bibby, Oliver Merridew and Chloe Lawson from Ongaonga School and Charlotte Wyeth, Hillary Sims and Maia Lenihan from Opaki School. They have also been invited to July's FMG Young Farmer of the Year Grand Final.

New Zealand Young Farmer Board Chair Jessie Waite says this year's Grand Final is shaping up to be one of the best yet.

"We're starting to get a glimpse of the impressive array of skills and talent coming through with the next generation of young farmers. There's so much happening right now in the primary sector with science, innovation, and new technologies. The future of farming is certainly bright."

Waite says she's thankful for the support of volunteers and sponsors who continue to back the event, year after year.

"The contest wouldn't be what it is today without them. There's a lot of hard work that goes on behind the scenes – from coming up with ideas for the competition to supplying the equipment needed on the day and helping with the set-up of the event. We're so grateful to everyone who has played a part".

The FMG Young Farmer of the Year Contest is proudly supported by FMG, Ravensdown, WorkSafe, Environmental Protection Authority, Ministry for Primary Industries, Milwaukee, Honda, Lincoln University, Massey University, PTS Logistics, New Holland and Bushbuck.
For full results, please click here.
Related articles
Keep reading other articles from the same authors and about the same topics.