S55: Emma Poole crowned Waikato Bay of Plenty FMG Young Farmer of the Year
A Pirongia dairy farmer has been crowned the Waikato Bay of Plenty FMG Young Farmer of the Year.
Emma Poole, 28, from Te Kawa West Young Farmers is a second-time Regional Final winner and will be heading to the Grand Final in Timaru in July. She takes the title off her husband, Chris Poole, who was the Season 54 Waikato Bay of Plenty FMG Young Farmer of the Year. Her brother, Tim Dangen took out last year's Grand Final, making him the current FMG Young Farmer of the Year title holder.
"It's safe to say we're pretty competitive in our family," laughs Poole, who says she has unfinished business going into this year's Grand Final. She was an FMG Young Farmer of the Year Grand Finalist in 2019, so this is her second time going for gold.
Poole was announced as the winner of the Waikato Bay of Plenty FMG Young Farmer of the Year in Morrinsville on Saturday evening, after spending the weekend competing in a range of activities at the Morrinsville A&P Show.
The two-day event is the first of its kind in the Contest's 55-year history. Usually, District Contests are held months in advance of the Regional Final, but the new format aims to streamline the process by running a District Final on day one and then hitting with a Regional Final on day two.
Poole spent Friday battling it out against 16 other Young Farmers. She was one of eight to make it through to the Regional Final on Saturday, before being crowned the overall winner.
"Going into the contest the only thing on my mind was making it into the Grand Final. After coming up short in 2019, I felt like now was the perfect time to give it another crack. Chris and I have a one-year-old son, so I have something bigger motivating me this time around."
Saturday's challenges were the weekend's major highlight – competitors went head-to-head with two faced-paced challenges, as well as having to complete a farmlet which included riparian planting, fencing and building a feeder out of pallets.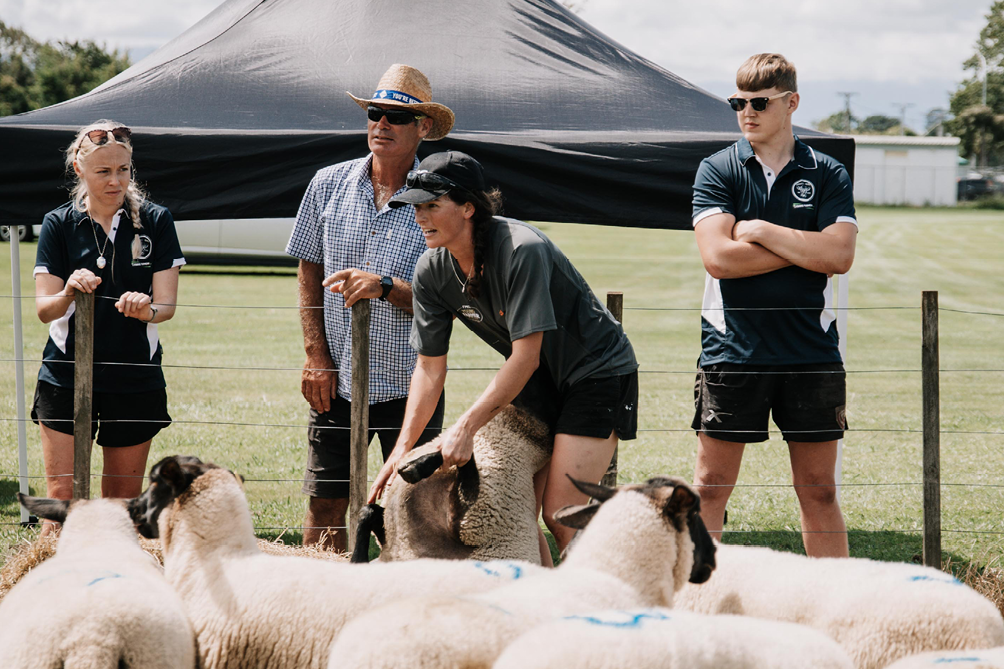 "The challenges were quite physical, so being a female, you wonder if you have what it takes when you're competing against men who have an advantage in that area, but I pushed through, and I'm so stoked with the result. I feel like it shows women can do anything."
As well as calling on her family's wisdom, Poole says she'll incorporate preparation into day-to-day on-farm tasks. She explains that her focus will be building up her physical strength and fitness.
"Between Chris, Tim and I, we all have different strengths, so I will be able to pick their brains on some things that I'm not so good at. At the end of the day, winning or not winning, being able to put on a quality display will be my priority."
Edward Roskam, also from Te Kawa West Young Farmers placed second, with Cameron Wratt from Morrinsville Ngarua Young Farmers securing the final spot on the podium.
The next generation of young farmers also took part in Saturday's competition, with Trav Miers and Caleb Van Der Bijl from St Peter's Cambridge taking out the title of Waikato Bay of Plenty FMG Junior Young Farmers of the Year. Team Pukeatua Proud made up of Regan Hemingway, Chloe Bowers and Quintin Stockholmes were the Waikato Bay of Plenty AgridKidsNZ winners.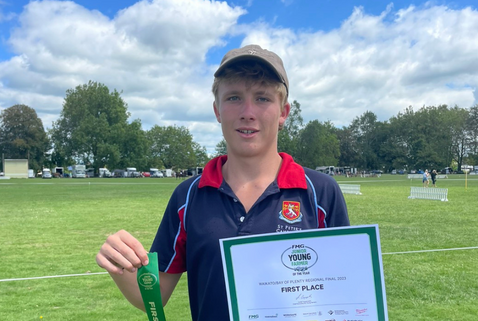 Waikato BOP FMG Junior Young Farmer of the Year 2023 is Trav Miers and Caleb Van Der Bijl (absent)
Ben Morris and Jack Ramsey from Hamilton Boys' High School placed second in the FMG Junior Young Farmer of the Year Competition.
Runner-up and third in the AgriKidsNZ contest were Ben Barbour, Josh Barbour, Jackie Sneddon from Te Waotu School and Tobias Farrell, Korben van der Heyden and Liam McGuire from St Mary's Putaruru. They have also been invited to July's FMG Young Farmer of the Year Grand Final.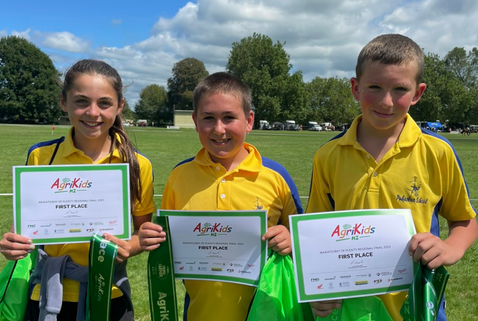 Waikato BOP AgriKids Winners for 2023: Chloe Bowers, Quintin Stockholmes and Regan Hemi
New Zealand Young Farmer Board Chair Jessie Waite says this year's Grand Final is shaping up to be one of the best yet.

"We're starting to get a glimpse of the impressive array of skills and talent coming through with the next generation of young farmers. There's so much happening right now in the primary sector with science, innovation and new technologies. The future of farming is certainly bright."
Waite says she's thankful for the support of volunteers and sponsors who continue to back the event, year after year.
"The contest wouldn't be what it is today without them. There's a lot of hard work that goes on behind the scenes – from coming up with ideas for the competition to supplying the equipment needed on the day and helping with the set-up of the event. We're so grateful to everyone who has played a part".
The FMG Young Farmer of the Year Contest is proudly supported by FMG, Ravensdown, WorkSafe, Environmental Protection Authority, Ministry for Primary Industries, Milwaukee, Honda, Lincoln University, Massey University, PTS Logistics, New Holland and Bushbuck.
For full results, please click here.
Related articles
Keep reading other articles from the same authors and about the same topics.