Tim Dangen reflects back on winning FMG Young Farmer of the Year Season 54
The current FMG Young Farmer of the Year, Tim Dangen, is keeping busy while this season of FMG Young Farmer of the Year is in full swing. Dedicated to his work in the primary sector, Tim's adding on to his farming with a new role as a food and fibre ambassador. He reflects back on how competing helped push him out of his element, boost his confidence and develop his people skills.

While working as a dairy farmer down in Southland, Tim was introduced to NZYF by his boss, and 2004 Young Farmer of the Year winner, Simon Hopcroft. At the time Tim wasn't an NZYF member and didn't know much about the organisation, but he was passionate about the agriculture industry, young and keen to participate in the gruelling competition. After relocating back to Auckland, he finally went along to see what Young Farmers was all about.

"Meeting the people at the Auckland Young Farmers Club made me realise how special it is because everyone came from a different walk of life. I was the only farmer there at the city Club, but everyone had an interest in agriculture or the primary sector, or a connection towards the industry somehow," recalls Tim.

After that first meeting in 2017 he was keen to join, and jumped on the Committee as vice chair. Then he set his mind on participating in his first District Contest where he placed 4th. This put him through to his first Regional Final. He came super close to making it to the Grand Final, but missed out by 0.7 of a point.

"I was a bit gutted but still really happy with the first performance to come second. Being that close to going through gave me the confidence to know that I could get there one day."

While he didn't know what he was getting into in terms of competing, he enjoyed the experience and was planning his next entry. "I had an absolute blast participating! The best thing about NZYF and the Contest is the people that are involved in it. It naturally attracts quality people who are willing to give up their time."

Putting in the groundwork

Tim went on to participate in three more seasons over the years, putting in the groundwork to improve his knowledge and skills. "I was 23 or 24 at the time of my first season, then had a year off. I followed the Contest though as my sister Emma competed, she got through to the grand final that year!"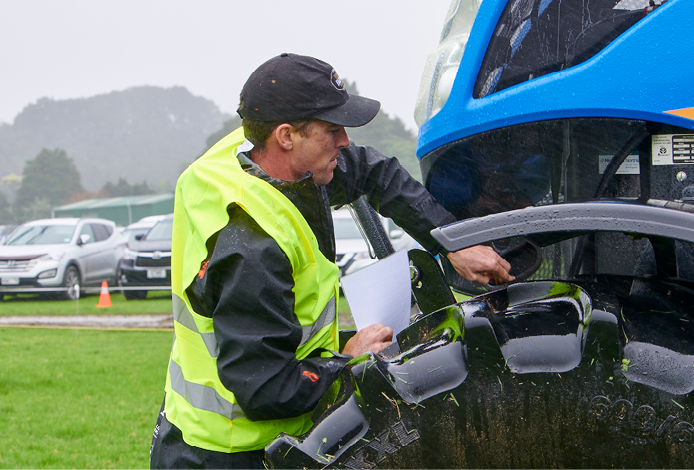 Dangen competing at the Season 54 Grand Final in Whangarei
He was picking up bits of knowledge as he became more familiar with the process but realised he needed experience with public speaking. So, he signed up for Toastmasters to help, then he set off on a talking tour in Southland where he met new people and was building up his interviewing skills. Back home, his Club would quiz him on a range of agri-topics and listen to his presentation projects.

"You have to be comfortable being uncomfortable. I'd think about what pushes my buttons, what makes me sort of squirm, and then try to conquer it. That's when you start to gain confidence because you're ticking these things off. You look back and realise you're doing things you couldn't do before."

In 2019, he entered his second Contest. "I went to the Regional Finals again, and I put even more effort in and came bloody second again," he laughs. "I was pretty gutted on this one but I lost to James Robertson who went on to win the Grand Final. It's always good losing to a champion but I got smoked in the quiz!"

Personal development and growth opportunities

Despite placing second in two Regional Finals, his family encouraged him to keep at it. "Why would I stop trying, you know? Every year you develop and grow a new skill, and you're constantly improving your people skills as you're interacting with strangers all the time. You're pushing yourself outside of your comfort zone. Participating at the Club level and Contest helps you realise that the personal development growth is massive."

He explained, "I was getting so much out of Contest, it was a no-brainer to keep chipping away at it. On the farm, it's pretty easy to put your head down and stop developing new skills. You get really good at your system and what you're doing on-farm, but there's always more growth opportunities out there."
It was his fourth attempt in 2022 where he made it to the Grand Final, taking the title of Season 54 FMG Young Farmer of the Year.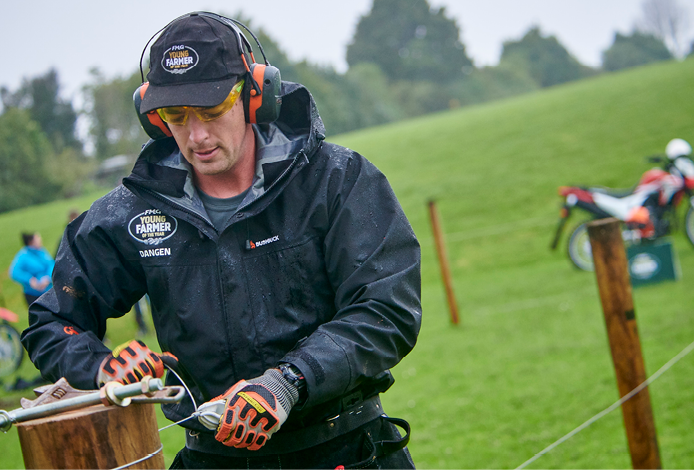 Dangen competing at the Season 54 Grand Final in Whangarei
"It has truly been life-changing. The Contest has such credibility in the sector, and to experience it, where industry leaders come up and shake your hand, has been pretty amazing. I've been able to meet and have genuine one-on-one conversations about things that are happening within the sector, that's been really rewarding."

Tim shared that he's proud to represent the Club at such a high level. "I want to make sure that I champion the Clubs as much as possible. It's important that Young Farmers stays front of mind for people within our rural communities, it has so much to offer."

When asked if there were any surprises after taking home the Grand Final title Tim didn't miss a beat, "my only surprise is that I want to go back and do it again! I thought if I won that I'd be done with it, but I'd love to go back and improve on the things that I could have done better on."

While his competition days have wrapped up, he's keeping busy on the family farm. Later this year, they're opening a wedding venue on the land, and looking forward to hosting open farm days for kids. He's also taking up the personal development courses he took home as prizes, and working to raise the profile of the primary sector among young people.

"In June I'll be starting the Kellogg Rural Leadership Programme. I'm really excited about that, as I've heard good things about it. And there are some other leadership courses that I've got my eye on."

"After Contest, I started doing a lot of speaking engagements within the local community. People seem to enjoy hearing the story of the Young Farmers Club and engaging with someone within the sector. Maybe it's because I'm based on the edge of Auckland but there's a lot of city folk that probably don't quite get the opportunity to engage with people from the rural community."

Promoting the pathways in the primary sector

Combining his love for rural communities and ambition to help young people find their way to the sector, he's adding a new role to his farming workload as an ambassador with the Ministry of Primary Industries (MPI).

"The idea of the role is to get into schools within Auckland City, first and foremost, to promote the pathways and opportunities that are available for young people within the primary sector. I hope it sparks enthusiasm for the sector, and showcases the variety of career paths that are out there, other than just farming."

This new role with MPI didn't exist, but Tim had an idea for it knowing it could help reach students at a time when deciding on the next steps is critical. He put his people skills to the test and approached his contacts at MPI to see if there was a way he could help.

"We never had someone in our high school in West Auckland telling us about opportunities in the sector. When I asked my career advisor about Lincoln University, she didn't have any pamphlets on it or anything like that."

According to Tim, a school with 3000 kids should have 10% heading towards the primary sector.

"I think the pathways are there, but it's not well enough advertised or promoted within the city. MPI was the perfect outfit to start with, it's a pilot programme and it will be great to get in there to plug these opportunities to the kids."

He says it's more than just attracting people towards the sector, it's about the people doing the work.

"I'm hoping the programme will help share positive stories and case studies of the rural community. By nature, we're quite reserved people. So if we can get out there and tell these amazing stories, it will put the sector in a strong position going forward."

The kindness of strangers and the support of family

As for the Contest this year, he's helping out at the Regionals judging the quiz and running the red flag judging.

Reflecting back on preparing for last year's season, he shared, "support crew around you is vital. My wife Jenny was enormous in the Grand Final for me. Another thing I found supportive was the willingness of people to help you prepare. I asked complete strangers for help and they would take half a day out to show me how to do something like welding. It blew me away that people were more than willing to help because they know the Contest. It's another great thing about competing, meeting all these people. You make great friends, it's fantastic."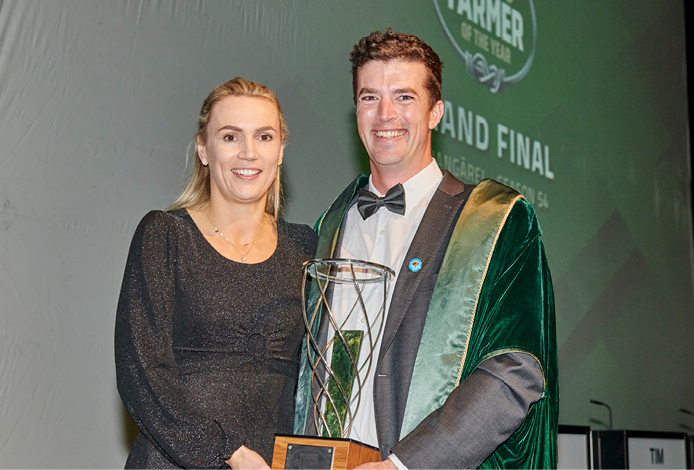 Tim Dangen with wife, Jenny.
As for other young people hearing more about the Contest this year Tim explains, "don't be afraid to give it a go. I guarantee you will get something out of it. Same for participating at a club level, Young Farmers is an awesome organisation to be a part of. There's so much personal growth you will achieve just by participating."

To find out more about FMG Young Farmer of the Year and the upcoming Grand Final, click here.
Related articles
Keep reading other articles from the same authors and about the same topics.