Revamped Banks Peninsula Young Farmers Club Preparing for Exciting Year Ahead
Enjoying a challenge and engaging with people from all walks of life, Isabelle Coates (Izy), 25, saw an opportunity in the Banks Peninsula region to gather people and relaunch a Young Farmers Club. The idea behind it is to connect people, have fun and create a Club based on what the members want it to be.

Working as an engagement and partnerships manager for Muka Tangata People, Food and Fibre Workforce Development Council, Izy chairs the Waihora Banks Peninsula Young Farmers Club in her free time, and along with the Club's exec team organises meetings and social events.

"I get a kick out of seeing people develop and grow their confidence. It's also great to be volunteering and getting involved in the community as well. It's awesome to see what you can achieve with a few people giving back."

She first joined Young Farmers during her studies at Lincoln University where making new friends and seeing the country stood out as her favourite Club memories.

"I really valued going on trips with the Lincoln Young Farmers. One was to Muller Station up in Molesworth which was amazing. And another trip down to Queenstown. It was great being able to see such a range of farms and getting to know people over a weekend away."

After uni, she relocated to Wellington and joined the Capital's Club. "When COVID hit, I found it challenging to meet like-minded people in a new city. Joining Wellington Young Farmers helped me find my people. One thing that stands out to me is the annual industry function they hold, with a themed event and a panel of speakers. I really valued being able to hear from such inspiring people."

An opportunity in the making

"After moving back to Canterbury, I noticed there was a missed opportunity and a need in the Banks Peninsula area for a Club"," explained Izy.

To get things going, she got in touch with people she knew and asked if they'd be interested in joining. She also connected with the Young Farmers Tasman Regional Chair to gather their feedback on the plans before moving forward.

"It kind of fell into place," she shared. "Historically there used to be a Banks Peninsula Club which shut down a couple of years ago and years before that, there was a Waihora Club. Now, combining the two areas, we formed the Waihora Banks Peninsula Young Farmers."

"We cover the Waihora area, as well as Banks Peninsula and split our meetings between Tai Tapu and Little River. While we're a small Club, I hope one day it will grow its membership base large enough that there could be two Clubs co-existing in these areas."

In April, they kicked off with their first annual general meeting where members put themselves forward for exec roles and were voted in. Member's feedback at that meeting helped plan events for the year. Farm tours were the top pick along with social activities including barbecues, bowling nights, and a general request to keep the group connected with regular get-togethers so people can make friends.

"It's a great opportunity to get together and get to know each other doing some sort of activity," said Izy.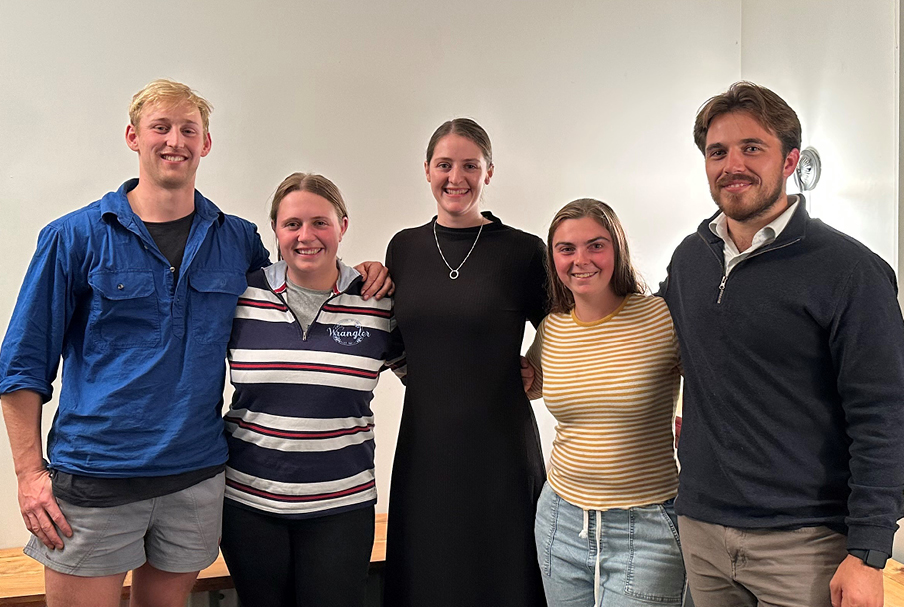 Waihora Banks Peninsula Young Farmers Exec – from left, George Letham (Vice Chair), Lauren Jones (Secretary), Isabelle Coates (Chair), Zoe Hoskins (New Members Liasion and Health & Safety), Campbell Kerr, Treasurer

Generous small businesses and community support

"Our first event in May was a quiz night. There was a raffle for prizes made up from local sponsors worth over $1000! We had such a range of people willing to help. Sponsors have been so supportive, and it's almost always the smaller businesses that are so generous! It's been incredible," she shared.

To get the word out, the Club posted to Facebook community pages looking for fundraising opportunities where members can provide work on farms.

"We've been out in Akaroa for a gardening fundraiser. Between the three of us, in three hours, we managed to lift up almost half a ton of garden debris, which is no small feat . We've had a guy reach out that wants to do a possum-trapping workshop for us! The community has been really supportive, which is so rewarding."

The Club has 16 members already and is busy building up its membership base. Anyone aged 16 to 31 is welcome to join and come along.

"We've got sheep and beef farmers, dairy farmers and agricultural contractors, a few PhD students at Lincoln University, and food and fibre professionals. We're open to anyone looking to join us, wanting to get involved whether they work in agriculture or not."

Get out, connect with others and have fun

While the region is largely spread out, the Club is hoping to offer a variety of regular events so people can get to know each other.

"I think it's really important for people's mental health to get out and meet new people. Some of our members are working in the middle of nowhere, and there's not a strong community around them. Or I think about when I was working from home in previous roles full-time, that could get lonely. It's important for people to get out and connect, talk about what's going on in their lives and have a good time at the same time."

And for those keen, there's the opportunity to put your hand forward in a leadership capacity. Izy explains, "we haven't filled every Club exec role available. There's a publicity role, and we have an exec member with two roles - health and safety, and new member liaison. So there's an opportunity to split that role."

The Club meets on the last Wednesday of every month plus monthly social events or fundraisers planned for the year. For more information, visit www.facebook.com/WaihoraBanksPeninsulaYFC
Related articles
Keep reading other articles from the same authors and about the same topics.