The recipients of the New Zealand Young Farmers (NZYF) National Awards for the year 2022 have been announced.
Taking place at the Caroline Bay Hall in Timaru on 6 July, the highly anticipated New Holland NZYF National Awards were emceed by Jay Reeve and Duncan Heyde, renowned hosts of 'The Rock Drive with Jay and Dunc' and saw NZYF members dress in their best blue outfits for a 'Blue Bash'.
The newly formed Dunedin Young Farmers Club was awarded the prestigious NZYF Club of the Year award. This recognition celebrates their diverse membership of agri-professionals, farmers, and university students.
The club seizes this opportunity to promote the New Zealand agri-food industry to young people, with a strong focus on engaging university students and organising networking and educational events.
As a relatively new club in Dunedin, they provide a valuable platform for newcomers interested in the food and fibre sector to connect with like-minded individuals.
Dunedin Young Farmers Chair Jessica Wilson says the club is over the moon to take out this prestigious award.
"Dunedin Young Farmers is barely a year old so we're absolutely stoked. It's been great to see the club take off over the last 12 months, and we can't wait to see what the next 12 will bring."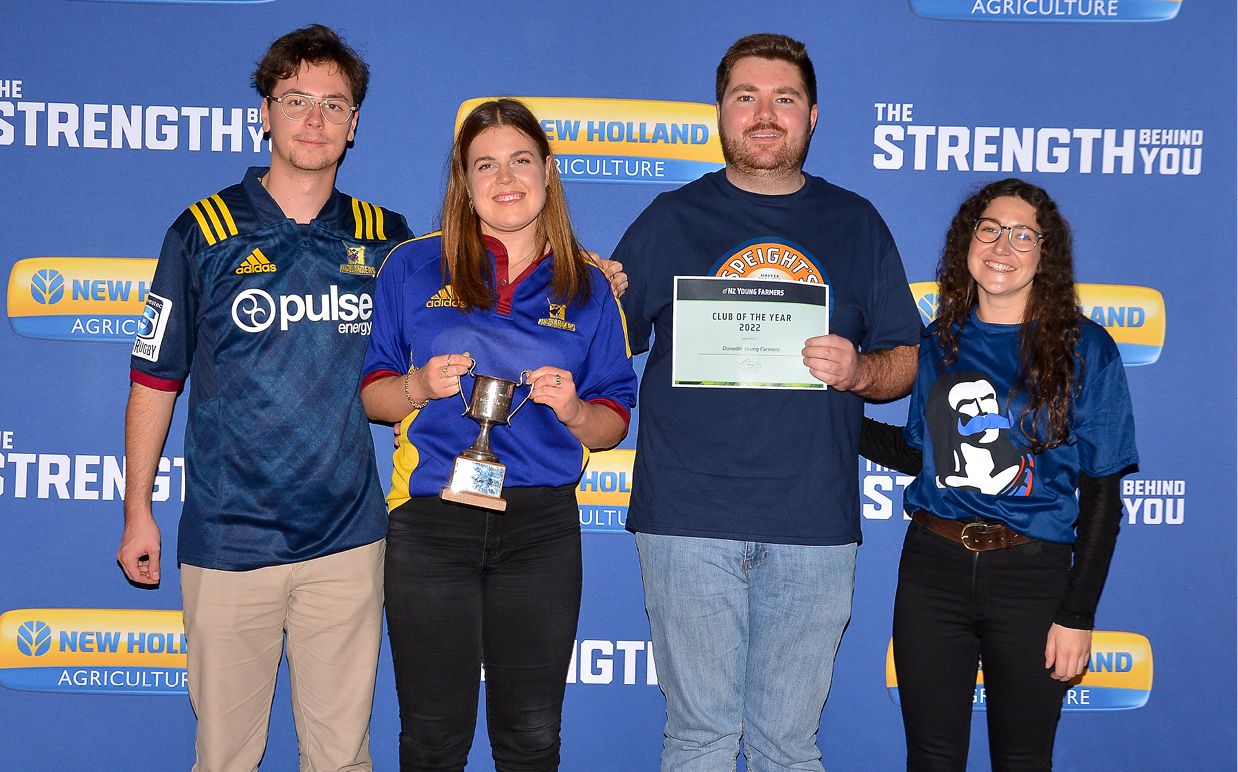 Some of the Dunedin Young Farmers Club at the New Holland NZYF National Awards
Nightcaps Young Farmers' member Chris Malcolm was awarded Service to Young Farmers and Fitzherberts Young Farmers' Kate Denholm took out the Leadership Award.

Marton Young Farmers' Bark Up took out the Best Event and North Waikato Young Farmers rose to the top to take out the Membership Award, thanks to a 200% increase in membership numbers.

Liv Thomson from Foothills Young Farmers was awarded the Health and Safety Award for her commitment to getting all members home safely. Thomson has also raised awareness of mental health and well-being, promoting to members positive changes and small steps for a healthy work-life balance.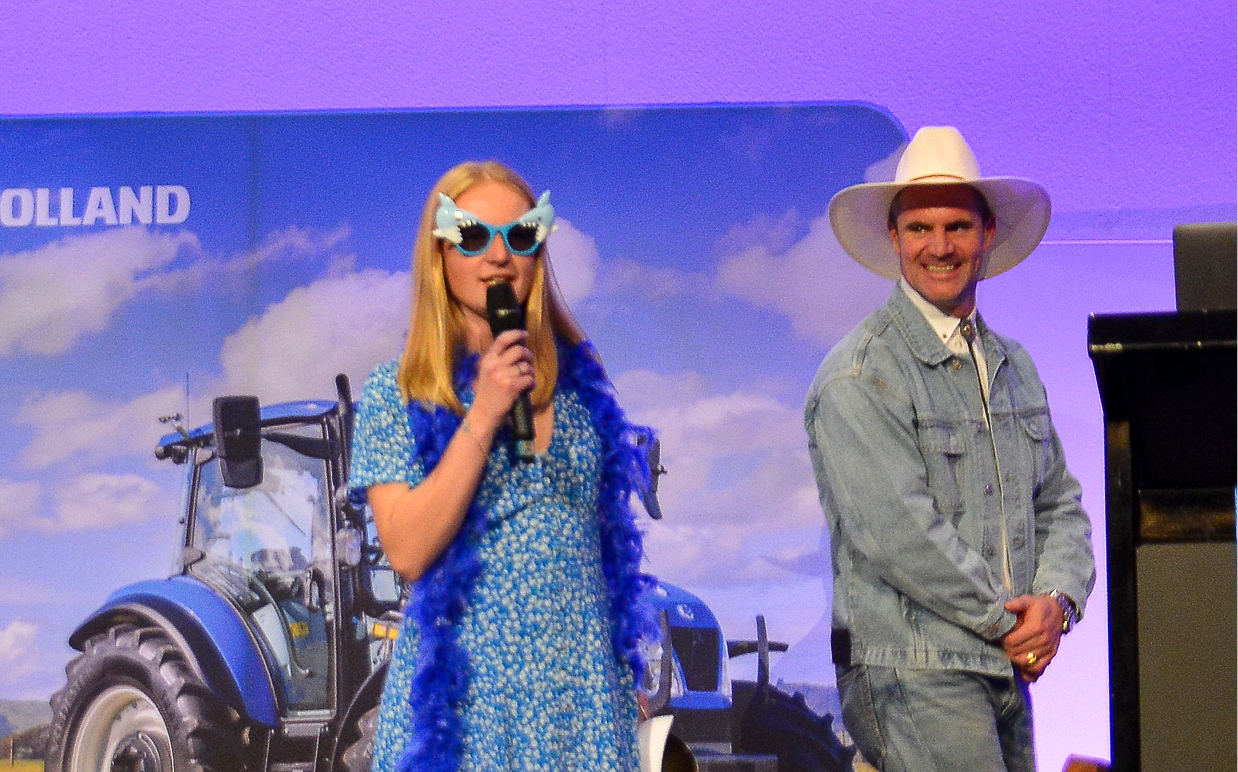 Liv Thomson from Foothills Young Farmers taking out the Health & Safety award
Meanwhile, the coveted award for Best Region went to Aorangi for its strategic direction and support provided to members, clubs and executive teams.

The awards kicked off with the Tavendale and Partners debate going down between the NZYF Aorangi and Northern Regions.

The Aorangi region took out the debate, arguing against the moot that the NZYF membership age should increase from 31 to 35.

The winners of the NZYF Tournament Series were also announced after fiercely competing for the coveted titles earlier in the day.

Outgoing New Zealand Young Farmers Board Chair Jessie Waite said it was a great night to celebrate the hard work of NZYF members after another busy year.

"The New Holland NZYF National Awards provide a special opportunity to celebrate the outstanding achievements of NZYF members and their unwavering commitment to the organisation. We are very proud of the tireless efforts and dedication shown by our members, truly representing the spirit of Young Farmers.

"These awards not only recognise their exceptional accomplishments but also highlight the remarkable talent and innovation that exists among our members.

"Congratulations to all our award winners and nominees, your selfless contributions do not go unnoticed."


FULL RESULTS
Best District Contest Season 55: Southland District Contest (Thornbury Young Farmers)
Best Regional Final Season 55: Waikato Bay of Plenty (Morrinsville Ngarua Young Farmers)
Health & Safety Award: Liv Thomson (Foothills Young Farmers)
Club Membership Award: North Waikato Young Farmers
Best NZYF Event: Marton Young Farmers Bark Up
Best NZ Young Farmers region: Aorangi Young Farmers
Service to Young Farmers: Chris Malcolm (Nightcaps Young Farmers)
Leadership Award: Kate Denholm (Fitzherbert Young Farmers)
Club of the Year: Dunedin Young Farmers


NZYF TOURNAMENT RESULTS:
Goldpine Fencing
1st: Zayn Jones & Natalie Ahlborn (Taranaki Manawatu)
2nd: Caleb Eady & Peter Morgan (Northern)
3rd: Quinn Steed & Ryan Craw (East Coast)
Hunting & Fishing Clay Target
1st: Shane Sanders (Otago Southland)
2nd: Mikayla Bryant (Aorangi)
3rd: David Easton (East Coast)

Overall Team: David Easton & Quinn Steed (East Coast)
NZ Farmers Livestock Stock Judging
Beef
1st: Renee Garrett (East Coast)
2nd: Graham Johnston (Waikato BOP)
3rd: Emma Wilson (Northern)

Dairy
1st: Elizabeth Graham (Otago Southland)
2nd: Holly Powell (Taranaki Manawatu)
3rd: Alice Anderson (East Coast)

Sheep
1st: Alice Anderson (East Coast)
2nd: Brittany Caldwell (Aorangi)
3rd: Elizabeth Graham (Otago Southland)

Overall:
1st: Elizabeth Graham, Otago Southland
2nd: Alice Anderson, East Coast
3rd: Bex Perry, East Coast

Team Winner:
Alice Anderson, Renee Garret and Bex Perry (East Coast)
Tavendale & Partners Debating
Winners (arguing against): Aorangi Team (James Hurst, Georgia Steel and Jack Arthurs-Schoppe)
Related articles
Keep reading other articles from the same authors and about the same topics.