The NZ Young Farmers (NZYF) Wellington City Club is gearing up to celebrate its 15th
anniversary this year. Over the years, the Club has been meeting up monthly to enjoy outdoor
activities and social events. With members spread out over the wider Wellington region, it makes for a diverse mix of city and country people that share a common interest in the food and fibre sector.
Media planner and buyer, Josh Mangos, 29, is vice-chair of the Wellington City Young Farmers Club. After moving to the capital from the Canterbury area, he joined the Club in 2021. While he's a newer member, he quickly took up a role on the executive committee where he helps plan meetings for the year.
"I knew a little bit about Young Farmers when I grew up in Southland and through university at
Canterbury, but never really got involved until I arrived in Wellington. My last job was with
Federated Farmers and that's how I met a couple of the members. I got roped into joining and
it's been a really cool experience," he said.
"It's such a great way of meeting new people. The Club is part of the Taranaki Manawatu
region, so we get a chance to go out that way and meet up with a lot of people through different
events. Despite the fact that our Wellington members are scattered from all over including the
Wairarapa area, they still find time to travel and get together."
With a mix of students and professionals, many of the Club members are in their mid-twenties,
though anyone aged 16 to 31 is welcome to join. Josh knows what it's like to relocate to the city
from a smaller rural community and says coming out to a meeting is a great way to make new
friends while settling in.
"Since people are usually from all over the country and have converged here in Wellington to
work and to live, you get a really good, broad range of people. While there are a lot of meet-up
groups here and people have their mates from uni or work there's not a lot of things like Young
Farmers. We're a group of good people that are really inclusive and we want people to enjoy
themselves, and have a good time while building a network," shares Josh.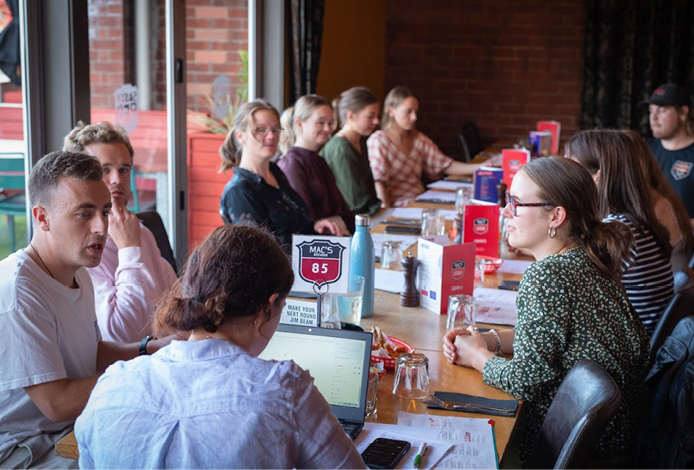 City meets country
The members catch up frequently with meetings each month, and events planned throughout
the year. Being a smaller Club with around 20 members they are a close-knit group and value
the unique backgrounds each member brings.

"We like to get out of the city to go camping and fishing and a bit of tramping. We're trying to
integrate member hobbies into our get-togethers with activities like surfing and diving. And we
spend a lot of time on the coast or visiting people's farms that we know out in the Wairarapa."

This year the Wellington Club is planning its staple events such as a midwinter event, pub
quizzes, and bowling meet-ups, but one advantage to being in the city is heading out to the rural
communities.
"When you go somewhere overnight on a camping trip, it gives you a chance to spend a longer
time chatting with others, and a good chance to bond," shares Josh.

"The energy shifts a little bit when we get out of the city together. For me, being outdoors
recenters myself and I noticed others wanted to do the same thing. It's great being with friends
from the Club doing outdoor adventures together."

There's also an exchange with other clubs where members get to experience what the other club gets up to.
"We went to Palmerston North to visit a farm where we did sheep shearing and tractor driving and learned how to put a saddle on a horse. We were able to get away for the day and build a sense of connection with the other club. In the future, it means we've already got some friends or faces we can talk to and invite them down to Wellington and return the favour," explains Josh.

Building up a community in the capital
Josh explains that people might not think Young Farmers applies to them, but it's the broad array of people that come together that adds a lot of value to the discussions.
"We've had some people who brought friends or partners to an event who didn't think
the group applied to them but they came along anyway and discovered it's a really cool group. We have good yarns like anyone else. Just because we have the title of 'young farmers', it doesn't necessarily mean that's the case, it's more about getting together with like-minded people."

The Wellington City Club Chair Lauren Hale added, "whether we have rural backgrounds or not,
we live and work in the city with an awesome group of people who are always keen to learn, try
something new and push some comfort zone boundaries. I'm so glad I joined Wellington City
Young Farmers as I've made some lifelong friends and great memories. The city offers a unique
opportunity to connect the corporate world of the food and fibre sector, and helps make those
key connections for our future in the workforce."

The Club is gearing up to celebrate the 15th anniversary in Welly with talks on how to
commemorate the milestone event. The members are keen to keep up with club traditions and
stay connected to the wider Young Farmers Clubs throughout New Zealand.

If you'd like to know more about Wellington Young Farmers, click here.
Related articles
Keep reading other articles from the same authors and about the same topics.