2023 FMG Junior Young Farmers and AgriKidsNZ Champions announced
Twins representing the far south have taken out the title of the 2023 FMG Junior Young Farmers of the Year at the Grand Final in Timaru.

Siblings and Dunedin pupils Zoe McElrea, of Columba College, and Millar McElrea, of John McGlashan College secured the win after a series of challenges spanning two days. Contestants' farming skills and general knowledge were put to the test with tasks that included crop spraying, building a planter box and straining a wire fence.

The top five teams then went head-to-head in a buzzer-style quiz at Friday evening's award ceremony.

The competition was fierce, with 13 other teams from across Aotearoa rolling up their sleeves in a bid to secure the coveted title.

"I was shocked when they called out our names! It's been six years coming and I just didn't believe it at first," says Zoe.

"We're stoked. We've been doing a lot of work to get this point – we knew we had to enter the event feeling like we could win it, because if you don't believe in yourself, then you're disadvantaged already," says Millar.

Napier Boys' High School students Cameron Brans and Quinn Redpath were the runners-up, while Jack Foster and James Clarke from Mount Hutt High School secured the final spot on the podium.

It's not the first time Zoe and Millar have attended a Grand Final, this is their third attempt at the FMG Junior title as a team, the pair have also competed separately before that.

"Last year we just kind of showed up and had a good time, so it was good to put a bit of work in this year, I definitely think our farmlet left a bit to be desired but the rest of it was really good. We got through it together and worked things out when we had to," says Zoe.

The next generation of young farmers, the AgriKidsNZ competitors also tackled a range of challenges during the event, with team Legendairy, a trio from Mt Somers Springburn School taking out the title of AgriKidsNZ Grand Champions.

Flynn Wallace (10), Charlie Clark (12) and Georgia Heaven (9) racked up the most points after a gruelling day of challenges.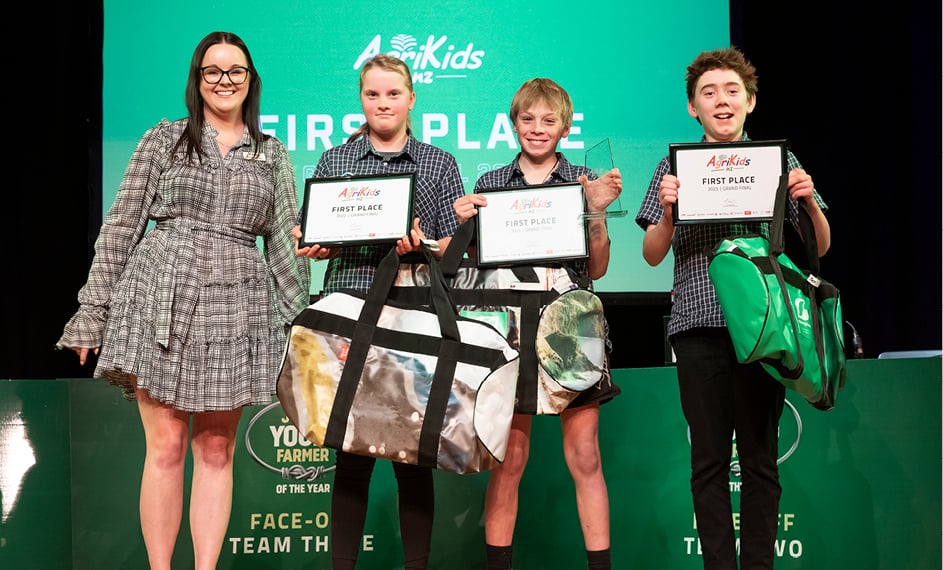 "It's awesome that all the effort we put in has paid off. I think it's fair to say we're all feeling really happy with the win," says Charlie.

The trio were surprised to find out they'd also scored highest in the Modules and the Agriquiz taking home three of the top awards.

"It got better and better each time our name was called! Our team did amazing, we're very happy that we won some great prizes and of course, bragging rights," says Flynn.

The Three Western Girls from Hauroko Valley School made up of Sierra Bennett, Elly Hurley and Sophie Parris were the AgriKidsNZ runners-up.

Meanwhile, Southern Boys also from Hauroko Valley School came in third place, made up of Sam Horrell, Oliver Chamberlain and Tomas Clarke. Clarke also took home the prestigious title of Contestant of the Year.

The competition continues to heat up for the seven FMG Young Farmer of the Year Grand Finalists. The winner will be announced this evening, Saturday 8 July, at an awards ceremony due to be held at the Southern Trust Events Centre in Timaru.
The FMG Young Farmer of the Year Contest Series would not be possible without the support of its sponsor family: FMG, Ravensdown, EPA, MPI, Worksafe, Milwaukee, Honda, Lincoln University, Massey University, New Holland, PTS Logistics and Bushbuck.
For more information about the Grand Final, please head to: https://www.youngfarmers.co.nz/contest/grand-final-season-55
Related articles
Keep reading other articles from the same authors and about the same topics.